1. Housing
After being founded, this organization embarked into housing development and successfully launched into housing projects either as a sole developer or investor. More than 4000 units were offered to members. Projects implemented in sites as follows
Taman Cuepacs, Batu 7 Cheras : 694 housing units
Batu 12, Kajang
1,520 housing unit, 41 shop unit houses
Labu, Seremban : 70 housing units
Taman Jayamas, Seremban : 444 housing units,
100 units flat medium costs, 128 unit low cost flats, 34 3-storey shop houses
Segambut : 185 housing units
Brickfields, Rumah Pangsa Cuepacs : 100 units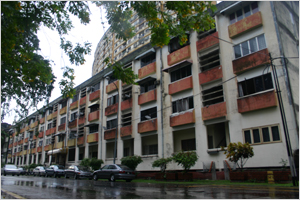 Taman Koperasi Cuepacs Kajang,Shops and flats : 63 units
2. Loans
Loan facilities opened to all registered members.
Guaranteed Loans - 4 times value of deposit or 6 times monthly salary of the member.
Guarantor Loans – Up to a maximum of RM5,000.00.
Credit Loans – Up to 80% members credit with the Koperasi.
Collateral Loans – Credit facility on a single or cumulative of the following.
Emergency Loans - Small loan for immedaite use
3. Q-Farm products
Koperasi runs an agriculture farm in Taman Koperasi CUEPACS. The main produce is Grey Oyster Mushroom. Fresh Grey Oyster Mushroom is supplied to distribution centers for downward sales. In addition dry mushrooms, mushroom powder and by-products are prepared and supplied based on standing orders.
4. TUCUM (Trade Union Cooperative Union Malaysia)
TUCUM is a company founded by Malaysian Trade Union Congress (MTUC) and Cooperative Union of Malaysia in 1974 in conjunction with the silver Jubilee celebration of the MTUC. The two pioneer individual shareholders were P.P. Narayanan President of MTUC and Kualarajah the General Manager of MCIS and President of CUM. Koperasi CUEPACS bought over the company in 1985 and currently supports the activities of the Koperasi in the following areas:
General Insurance
Trading
Services
5. Health and Savings Insurance Scheme
Koperasi offers public sector workers an excellent, low premium and easy to participate Health and Savings Insurance Scheme worked out with Takaful Nasional now known as Etiqa Takafull. The scheme has a well-balanced savings and protection plan which coverage includes 36 critical illness, death and disability. While one saves, one is protected fully. The protection is offered 24-hours a day and one could be in any part of the world. As a cooperative, we are a corporate body providing a life-long relationship and service whether one is retired or in-service. Kooperasi CUEPACS is a corporate with a legal guarantee of reserve funds and best placed to undertake this type of project. Based on this consideration and responsibility, Koperasi CUEPACS had embarked on this scheme so as to ensure a continued life-long service to public sector workers.
Public Services members are welcomed to actively participate in this scheme. You can do so by filling the application form and submitting them together with a copy of the latest pay slip the Secretariat for follow-up action.
Download Application Form
Page 1 , Page 2 , Page 3 , Page 4
NEW Skim Insurans Simpanan Haji & Umrah
Newly launched the scheme to provide care and service for our new and young members. Forms and brochures would be posted as well as presented to potentail subscribers soon. Briefings to be held where group meetings are organised.